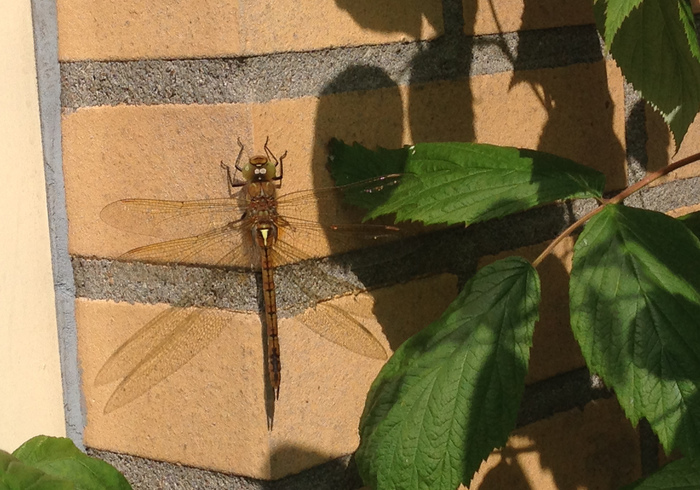 What grows in our vegetable patch?
Raspberries
Blueberries
Strawberries
Blackberries
Grapes
Red currants
Mini Cucumbers
Radishes
Mini Bell peppers
Various Herbs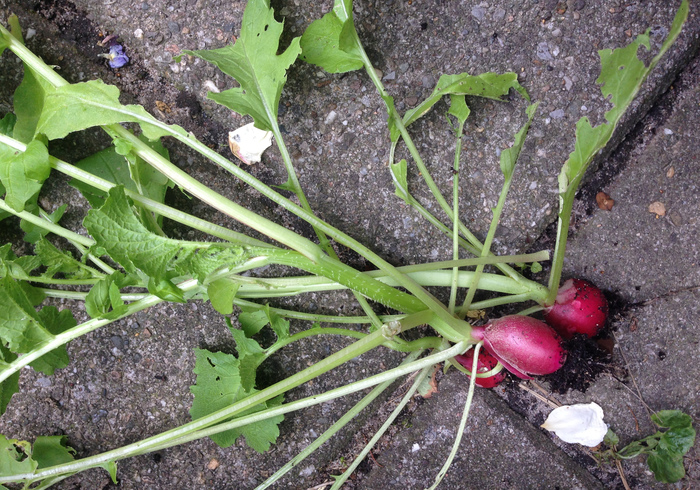 The last radishes are harvested! We now quickly relocate the tomatoes to their sunny spot. The tomatoes are a little bit behind because the stand in the shade of the super fast growing raspberry bush. We have to give them some extra water for a while so the roots can settle in quickly.
When you work in the garden you often meet nice visitors, such as this beautiful dragonfly. At first it was a shock because she flew very low overhead and she was very large. But wat an amazing creature, our youngest mini monster was delighted!

We see a lot of different birds and insects in the garden. Lady bugs, butterflies, green shield bugs ( the mini-monsters named those walking leaves) and snails are favorites of our mini monsters. We see a lot of Ants, Sow Bugs and Spiders too but those they just take in their stride. They do love all birds but the birds do not show themselves up close, like insects.
The bell peppers are also growing too slow, we are relocate them into the sunlight too. We notice that snails and other insects like to eat the bell pepper leaves. That is why we place marigolds amongst the plants and sprinkle coffee grounds around the base of the bell pepper plants. Those uninvited guests don't like that! It is not only fun to work in the garden with the kids, we see and learn a lot too!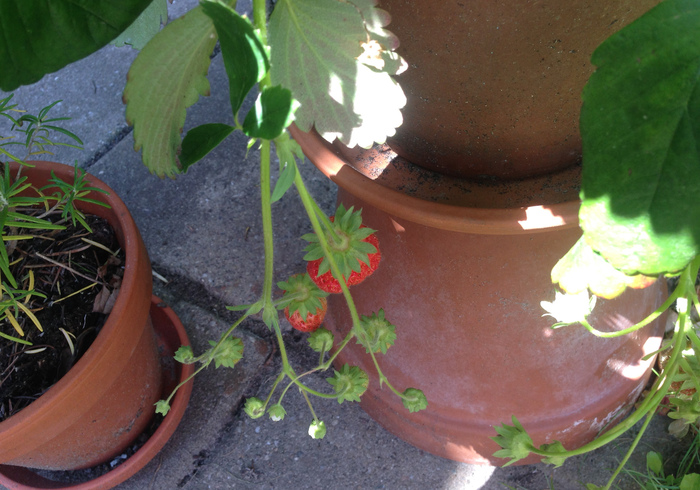 The strawberries are doing well, but our urban vegetable patch is small, so 2 - 3 strawberries each day is a good result.
The blackberrie bush is in bloom, to pick blackberries we must wait until September. We do pick handsfull of raspberries though.
We daily pick three, four mini-cucumbers. They grow fast and are un-sprayed, they taste deliciously fresh. The cucumbers are nice and firm when you take a bite. These are the rock stars of today in our kitchen garden, the raspberry and the cucumber. Both bush and plants give a lot of fruit and veg and they only need some water.
The raspberry bush grows every day, it shoots out of the ground. The grapes climb perfectly and form bunches already. The cucumber plants, it couldn't be better! But ... the blueberries don't want to thrive. The shrub grows slowly and there are less berries on it than last year. We count exactly seven!
We expected more because this shrub should be easy to maintain and give a lot of berries. We now learned that you should never plant just one blueberry because of cross-pollination. We are going to change that quickly but more about this in a later garden blog!
A close-up of the grapes, they are doing great!
Just relocated the tomatoes get lots of sun and 40°C!
At this moment the weather is nice for the garden, lots of sunshine with an occasional downpour and no extreme heat anymore. We are happy with those showers, because too much heat is not good for the garden or for us.
With long-lasting heat and drought the ground water gets low and then your garden needs extra water. However, pouring water on your garden in times of drought is discouraged, even forbidden sometimes and that also can be problematic for your garden. That's why it is so important to always mind the environment because normal Summer weather without extremes is best for your garden, the animals and us all!